Data drives strategy. That is why MOCAN commissioned the State of Student Aid and Higher Education in Missouri report.
The State of Student Aid (SOSA) report is intended to serve as a reference document providing current and timely data for use by practitioners in higher education, college and career advising, and financial aid.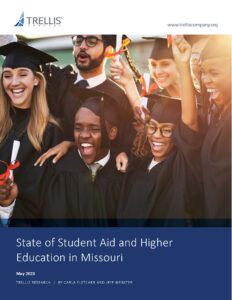 The publication focuses on Missouri as much as possible, and often contains comparisons to the nation or other similar states.
Each section concentrates on a different issue or set of issues.
Who enrolls in and who completes postsecondary education?
Where are students enrolling?
How are students paying for college?
What do we know about student loan debt in Missouri?
We hope this report informs data-driven decisions in your work.
The data in the SOSA report are already informing the work of MOCAN and its partners to address affordability for Missouri students. Learn more here.
Thanks to Trellis Research for producing the SOSA report. Thanks to Missouri Scholarship & Loan Foundation and MOHELA for supporting the research. Thanks to Missouri Department of Higher Education & Workforce Development for review and feedback.