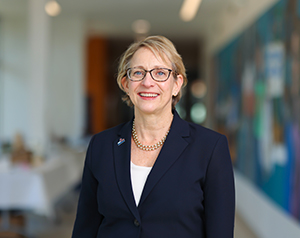 Executive Director
Laura Winter is Executive Director of Missouri College and Career Attainment Network. Prior to this role, Laura was Executive Director of St. Louis Graduates, a network of K-12 and higher education, youth-serving non-profit organizations, business and philanthropy working to eliminate equity gaps in degree completion.

Laura's career has focused on guiding and supporting collaborations of non-profit organizations and funders to improve outcomes for children and youth. Laura is a former grant officer at the Danforth Foundation and a former vice president of communications for the St. Louis Regional Commerce & Growth Association and past editor of St. Louis Commerce Magazine.

Laura is a graduate of the University of Missouri-St. Louis with a master's degree in public policy administration, and of Boston College with a bachelor's degree in English. She is a graduate of the program for state and local government officials at the Kennedy School of Government at Harvard University.