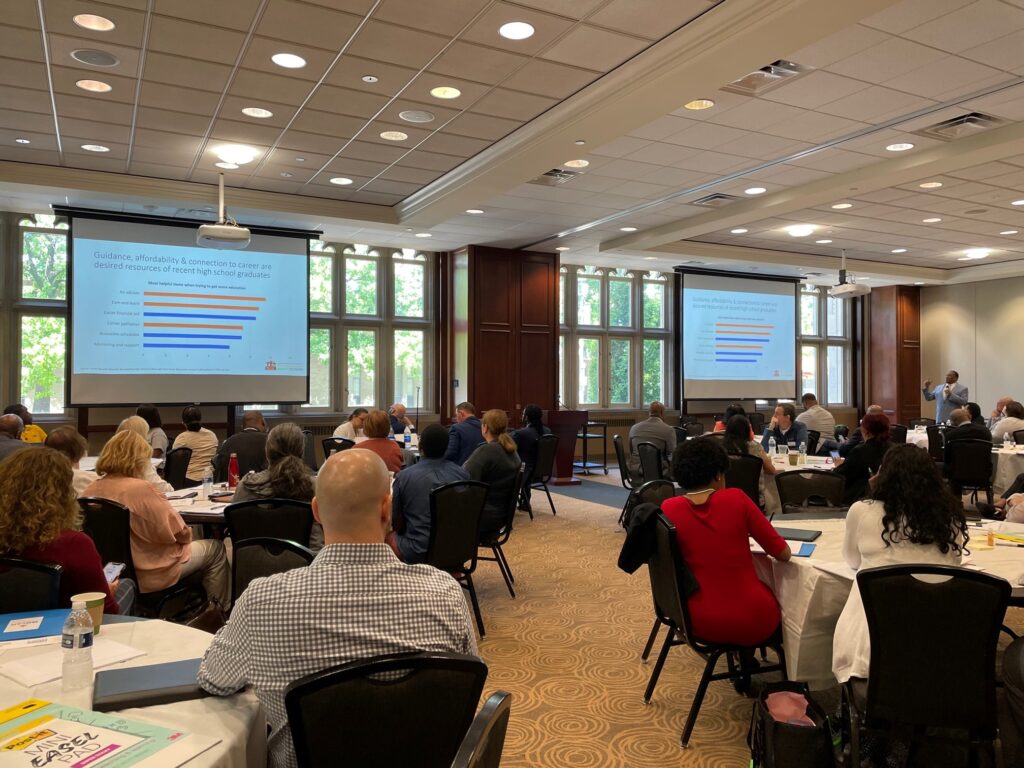 Fifty people representing 21 postsecondary institutions, and representatives from the Missouri Department of Higher Education and Workforce Development (MDHEWD) came together this month at the MOCAN Purpose First Summer Institute. They met to discuss, plan, and strategize on how to increase the retention and career readiness of BILPOC students, students from low-income communities and adult learners across the state of Missouri.  
The institute introduced Complete College America's Purpose First framework, demonstrating the impact early career and academic advising can have on student retention, completion and the perceived and understood value of postsecondary education. Complete College America is partnering with MOCAN to provide support and resources for institutions to develop intentional, resourced, and actionable plans. These plans are designed to support students in graduating and excelling in careers that match their interests and abilities.  
The goal is to help students navigate the systems, practices, and policies within postsecondary education, so they earn their degree or credential within a reasonable timeline, and therefore with less debt. This requires supportive, directive academic and career advising. These are the structural tools for developing the pathway into their careers. 

The highlight of the day-long workshop was the student panel. Three students from campuses across the state shared the most important lesson: that students succeed because of the authentic relationships they form with the people assisting them on their journey. Students need the support of people who listen to understand. These connections are an investment in their journey. Relationships matter to students' individual, educational pursuits.
What's next? Institutions have been invited to apply for deeper coaching and grant funding to support their plans. Over the next three years, their work will inform the broader effort to connect students to their purpose. Lessons learned will be shared with the Postsecondary Equity Network partners to extend the impact.
Audio