Two-thirds of all jobs require education and training beyond high school, but access to opportunity is not equal.  Many barriers hold back students from low-income backgrounds and students of color.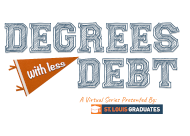 MOCAN, through one of its predecessor organizations, St. Louis Graduates, commissioned research to identify colleges and universities enrolling a significant percentage of low-income students and students of color, and supporting them to graduation at higher than predicted rates with less than predicted debt.
The first report, released in 2017, led to the St. Louis Talent Hub, a collaboration with five colleges and universities focused on transforming outcomes from Black students and low-income students. In 2019, the Talent Hub expanded to become the Postsecondary Equity Network.
MOCAN released an updated report and corresponding video series in 2020.
Read the Reports
2017 Degrees with Less Debt
2020 Degrees with Less Debt
Watch the Video Series